Have you ever imagined having a pasta dessert? You are probably not alone, But, well yes, it is possible. Even though Italians are famous for the creams, chocolates, ice creams and oily ingredients based desserts, in many countries around the world, pasta dough and some types of dry pasta are used for the elaboration of dessert in addition with other ingredients such as honey, chocolate, nuts, light creams and fruit syrups.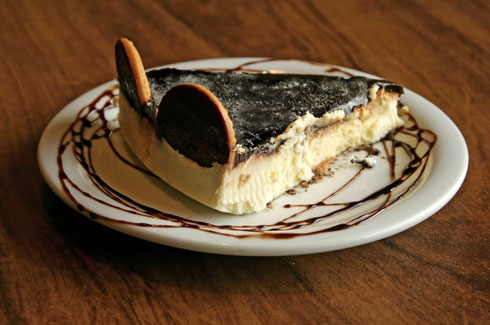 If you are a die-hard pasta fan you can even start and end your meal with pasta. While the concept is not strictly conventional, the possibilities are endless. It is possible to make mouth-watering desserts using pasta dough or different types of pasta, you are going to be surprised with the results. Ready Pasta Fan? Put your apron on and let's try these pasta dessert recipes.
DATE AND NUT TORTELLINI WITH CHERRY CUSTARD.
Dates and nuts lovers and pasta fans, Have you ever imagined having tortellini for dessert, well try this one.
Servings: 6 to 8
Ingredients:
1/3 cup chopped dates
3 teaspoons of Creme de Cacao
40gr of white chocolate, melted
75gr of packaged cream cheese softened
1/4 teaspoon of ground cinnamon
1/3 cup chopped roasted hazelnuts
1/2 quantity of plain pasta dough
1 egg, lightly beaten
CHERRY CUSTARD
3 egg yolks
1/4 cup of castor sugar
300ml carton of thickened cream
1 tablespoon of Kirsch
425g can of stoneless black cherries, drained.
Directions:
Combine dates and liqueur in a bowl, cover, stand 1 hour Blend or process date mixture, chocolate, cheese, and cinnamon until smooth, stir in nuts.
Cut pasta dough in half, roll each half until 1mm thick, cut Into 8cm rounds Top each round with 1 level teaspoon of date mixture, brush edges of rounds with water, fold in half, pressing edges to seal.
Brush corners with water, pinch together. Lightly sprinkle tortellini with extra flour. Add pasta to the large pan of boiling water, boil, uncovered, until just tender then drain.
Just before serving, place tortellini on lightly greased oven tray, brush with egg, bake in hot oven for about 15 minutes or until lightly browned Serve hot with cherry custard
Cherry Custard Beat egg yolks and sugar In small bowl with electric mixer until thick and pale.
Heat cream in a pan until bubbles appear, do not boil. Whisk egg yolk mixture into cream, stir over heat without boiling until mixture thickens slightly, stir in liqueur and Add cherries.
Lasagna Special with Berries and Cream
LASAGNA SPECIAL is a wonderful dessert prepared with lasagna Sheets, Berries, and Cream.
Servings: 4
Preparation time: 15 minutes
Total cooking time: 15 minutes
Ingredients:
4 fresh or dried lasagne sheets oil, for deep-frying
2 cups (500 ml/ 16 fl oz) of cream
250 g (8 oz) of punnet strawberries
250 g (8 oz) of punnet blueberries
250 g (8 oz) of punnet raspberries
4 passionfruit icing sugar, for dusting.
Directions:
Cook the lasagne sheets two at a time in a large pan of rapidly boiling water until al dente. Add a little oil to the water to prevent the pasta from sticking together. Drain, then carefully rinse the pasta sheets under cold running water. Carefully cut each sheet into three, crossways. Pat dry with a tea towel.
Half fill a medium pan with oil. Heat the oil until moderately hot. Cook the pasta pieces one at a time until crisp and golden. Drain on paper towels.
Whip the cream until soft peaks form. Place one piece of fried lasagne sheet on each serving plate. Top with some cream, berries and passionfruit pulp. Dust with a little icing sugar. Continue layering once more for each finishing with a lasagne sheet. Dust again with icing sugar and serve immediately.
Any fruits in season are suitable to use for this dessert. Chop or slice the way you like, if you prefer, you can add a little sugar and vanilla to the whipped cream to sweeten.
Pasta Cases with Fruity Ricotta Filling
PASTA CASES is a wonderful dessert prepared with lasagna Sheets and a special filling made with fruits and Ricotta.
Servings: 4
Preparation time: 35 minutes
Total cooking time: 30 minutes
Ingredients:
Oil for deep-frying
6 dried lasagne sheets
RICOTTA FRUIT FILLING
350 gr (11 oz) of fresh ricotta cheese
1 tablespoon of caster sugar
60 g (2 oz) of mixed candied fruit (cherries, orange, and lemon peel), chopped
30 gr (1 oz) of dark chocolate shavings
Directions:
Heat the oil. It will need to be at least 10 cm (4 inches) deep. Cook the lasagne sheets one at a time in plenty of boiling salted water until al dente. Remove with a sieve and place in a bowl of cold water for a minute or two, then transfer to a tea towel and dry both sides. Trim the end of each sheet to snake a square.
For the next step you will need 3 implements that are able to withstand boiling oil, a soup ladle of approximately 9 cm (3 1/2 inch) diameter or a wire scoop of the same dimensions, a utensil such as an egg whisk or a mixmaster beater which fits into the scoop to hold the pasta in shape; a pair of tongs. Take one pasta square and gently push it into the ladle by hand. Form a cup shape with the corners sticking out and with flutes between them.
Test the oil for frying by dropping in a piece of scrap pasta. It should bubble immediately and rise to the top. Lower the ladle into the oil. Use tongs to lift the pasta away from the ladle to prevent it sticking initially, then use the egg whisk to maintain the shape. The cases are quite sturdy so don't be afraid to manhandle them. They are ready when crisp and golden with bubbles forming on the surface. Practise with the first two, as these are spares.
As each pasta case is ready, remove from the oil and drain upside-down on paper towels. Allow cooling before serving.
To make the sweet ricotta filling, mix the ricotta with the sugar until combined. Don't use a food processor as it will make the texture too smooth. Fold in the fruit and chocolate. Spoon into the pasta shells just before serving, top with shaved curls of chocolate.
When granulated sugar is crushed to a very fine grain that is called caster sugar. Also known as superfine sugar, it is preferred in cooking because the grains melt quickly and dissolve completely. Caster sugar has good visual appeal and so is sprinkled on the top of cakes, puddings, and sweetbreads. It is also used to coat sweets and candies.
I believe you have enjoyed my collection of pasta dessert recipes, drop your comments below if you have any queries. Enjoy!!!
Pasta Desserts Recipes
Reviewed by
Debby Peters
on
November 23, 2017
Rating: